Posted by goathunter on September 9, 2019
(Comments Closed)
Vincent Chong recently posted the interior illustrations he did for Cardinal Black.
The latest Matthew Corbett adventure, Cardinal Black, is now out and shipping from Cemetery Dance.  Below are the interior pieces I did for this volume.
Posted by goathunter on March 22, 2019
(Comments Closed)
Artist Vincent Chong's website includes a gallery of the black & white art he has produced for the Matthew Corbett series.
Vincent Chong: B&W Art (Matthew Corbett Series)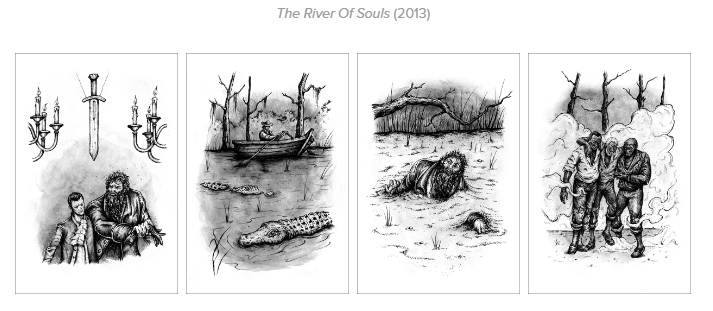 Posted by goathunter on February 6, 2018
(Comments Closed)
Vincent Chong posted this on his blog this morning: A while ago I posted a sketch I did for an idea for one of the interior pieces for Freedom of the Mask, by Robert McCammon, which was ultimately unused.  A fan of the Matthew Corbett series saw the sketch and ended up commissioning me to produce the finished art based on it.  […]
Posted by goathunter on January 16, 2017
(Comments Closed)
Collector Yegor Malinovskii recently shared some great photos of his collection of the limited editions of Robert McCammon's Matthew Corbett books published by Subterranean Press. All five volumes have been remarqued by artist Vincent Chong. Click on an image to view a larger version.
Posted by goathunter on June 27, 2016
(Comments Closed)
Artist Vincent Chong has shared the interior art he did for Robert McCammon's Freedom of the Mask, book six in the Matthew Corbett series. The book can be purchased from Subterranean Press. Freedom of the Mask, the latest installment in Robert McCammon's Matthew Corbett adventures, is now out from Subterranean Press. The book is available in […]
Posted by goathunter on August 29, 2014
(Comments Closed)
Artist Vincent Chong posted these illustrations from the Subterranean Press limited edition of The Queen of Bedlam on his blog this morning. The Queen of Bedlam is available as a signed, slipcased, limited edition from Subterranean Press. It can be purchased here. The Queen of Bedlam is book two in the Matthew Corbett series, which […]